Bikaner Known as Camel Country
One of the greatest spots in the world to ride a camel is in the city of Bikaner. The camels play an essential part in the locals' daily lives. Bikaner is a blossoming gem in the Thar desert thanks to its vibrant deserts, magnificent forts, and desert safaris. The city is embellished with enormous, magnificent forts and palaces that reveal the wealth of its kings to the outside world. These forts are so powerful that even after spending so many years building them, they still remained tall, untouched by the passage of time. Sand dunes are another distinctive feature of Bikaner, and they are particularly prevalent from the district's northeastern to southern regions. The city of Bikaner is located in Rajasthan's northern area. The city is fittingly known as "camel country" and is home to some of the greatest riding camels in the world. It is also noted for having its own distinctive temple dedicated to Karni Mata in Deshnok, known as the Rats Temple, as well as housing one of the largest camel research and breeding farms in the world.
Bikaner Culture and Food
The people of Bikaner are ethnic, carefree, and cheerful by nature. They used to be frequently spotted wearing their traditional attire, particularly the males who wore turbans on their heads. The majority of the population of Bikaner speaks Rajasthani. The Camel Festival, one of Bikaner's well-known celebrations, is not only well-known in India but also around the world. The Gangaur Festival, Kolyat Fair, Kapil Muni Fair, Karni Mata Fair, etc. are some of the other major events held in Bikaner. As one of the driest regions of Rajasthan, Bikaner's cuisine is primarily composed of dry meals. Such delectable fare includes khata, papad, Gatte ki sabji, mangodi, etc. Also well-known are the Bikaneri Bhujia and Mangodi in Bikaner.
Art and Craft of Bikaner
The amazing art and craft culture in Bikaner has been blooming since the 1600s. In the area, miniature art is well-known and may be seen in paintings and carpet weaving. The Usta art, a kind of camel-skin painting that Raja Rai Singh introduced to Bikaner, may also be seen in golden meenakari and other types of paintings. The amazing diversity of Usta art seen in Bikaner's Junagarh Fort and Rampuriya Havelis will wow tourists with its incredible artisanship.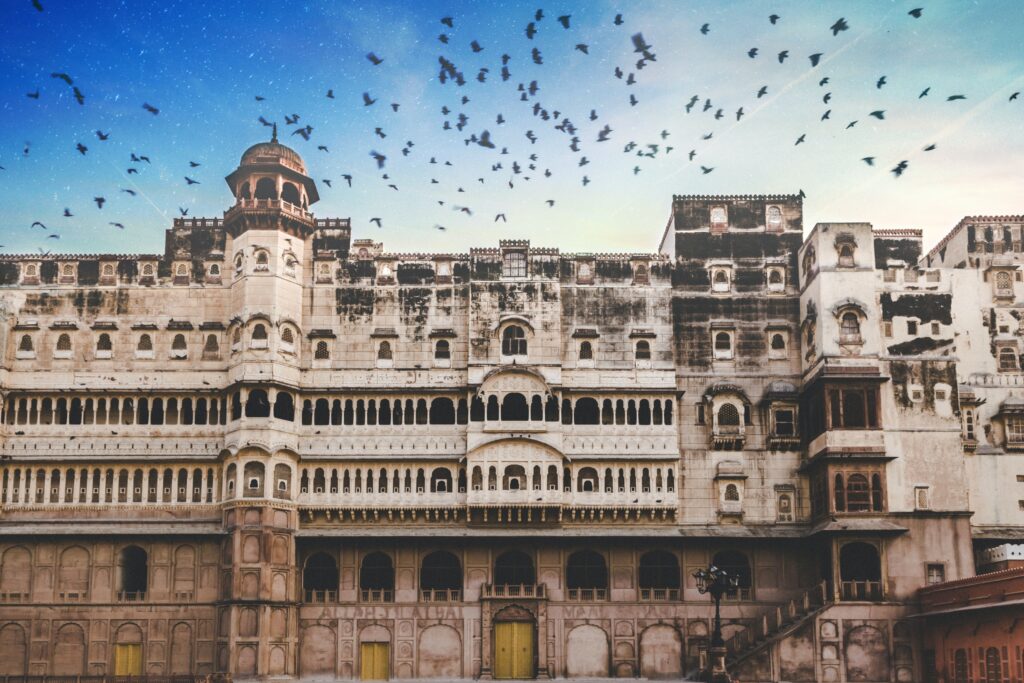 History of Bikaner
The area that is now Bikaner was once known as Jangladesh, a desolate wasteland. In 1488 AD, Rao Bika founded the city of Bikaner. He was the son of Rao Jodha, a member of the Rathor Rajput dynasty that founded Jodhpur and subdued the vastly barren region in Rajasthan's north. Bikaji travelled far, and when he came to the wilderness known as Jangladesh, he made the decision to found his own kingdom and build an outstanding metropolis there. Since its founding till its inclusion in the Indian Union in 1947 and subsequent incorporation into Rajasthan state on March 30, 1949, Bikaner has had a significant impact on the history of the nation. Just to mention a few, Raja Rai Singh Ji, one of Akbar's most illustrious Generals, was born in the state of Bikaner, as were several other talented Generals, soldiers, and notable Rulers.
Geography of Bikaner
Bikaner is located in Rajasthan, a state in northern India. The Thar Desert is home to the Bikaner district. The district receives irrigation water from the Indira Gandhi Canal, sometimes referred to as the Rajasthan Canal, which passes across the region from northeast to southwest. Latitude and longitude coordinates are: 28.027138, 73.302155. It is situated 330 km northwest of Jaipur, the state capital.
Weather Condition
Summer (March – June)
In Bikaner, the month of March marks the start of the summer season while June marks its conclusion. This time of year, the temperature fluctuates from 28 to 46 degrees Celsius. Dust storms and hot winds make it even hotter.
Monsoon (July – September)
The monsoon season, which starts in July and lasts till September, brings an average amount of rain to Bikaner. At this time of year, the humidity is still present. The timing is not ideal for seeing the location.
Winter (November – February)
In Bikaner, the wintertime temperature ranges from 4 to 23 degree Celsius. From December to February, the temperature is cool and comfortable.
Places to Visit
Junagarh Fort: The unconquerable fortress of Junagarh has the distinction of never having been taken. Raja Rai Singh, one of Emperor Akbar's most illustrious generals, built it in the year 1588. Within the fort complex are some exquisite palaces made of marble and red sandstone.
The Rampuria Haveli: There are various havelis (aristocratic residences) in Bikaner, with the Rampuria Group of Havelis being the most well-known collection. Every feature of the havelis, whether they are jharokhas (casements), entrances, latticed windows, divankhanas, gumaharias, or basements, is simply unique since they are constructed of dulmera (red) stone. Every jharokha is embellished with leaves and flowers, adding a nice touch.
The Devi Kund: A group of cenotaphs (Chattris) in the Bikaner city, Devi Kund or Devi Kund Sagar, is a stunning example of traditional Rajputana style building that has been combined with Islamic architecture. These chattris have elaborate carvings and are composed of red and white sandstone and marble, respectively.
Bhandasar Jain Temple: One of the most well-known temples in Bikaner is the Bhandasar Jain Temple, which is dedicated to Sumatinath, the fifth Tirthankara of Jainsim. This red sandstone, two-story Jain temple is located in Bikaner and is also known as the Bhandreshwar temple. It is believed that a rich trader named Bhandasa Oswal ordered the building of the temple around 1468.
Laxmi Niwas Palace: Maharaja Ganga Singh, the ruler of Bikaner, lived in Laxmi Niwas Palace. This building designed in the Indo-Saracenic architectural style between 1898 and 1902 by British architect Sir Samuel Swinton Jacob. Today, it is a high-end hotel.
Lallgarh Palace: Between 1902 and 1926, the Lallgarh Palace was built for Maharaja Ganga Singh of Bikaner. The European-style palace is currently available to visitors as a Heritage Hotel, and the entire estate is managed by the National Heritage Trust.
National Research Centre on Camel: The National Research Centre On Camel is a popular tourist destination in Bikaner and is available to visitors in the afternoon. Visitors may observe several camel breeds and their behaviour.
Karni Mata Temple: Rats and worshippers have a particular affinity at the Karni Mata Temple. The temple was constructed entirely out of stunning white marble and is highly influenced by Mughal architecture.
Ganga Government Museum: The museum, which is regarded as the best in the State, features a significant collection of artefacts from the Harappan and early Gupta eras. For paintings, arts and crafts, woven carpets, clay ceramics, antique coins, and Rajput weapons, there are separate areas.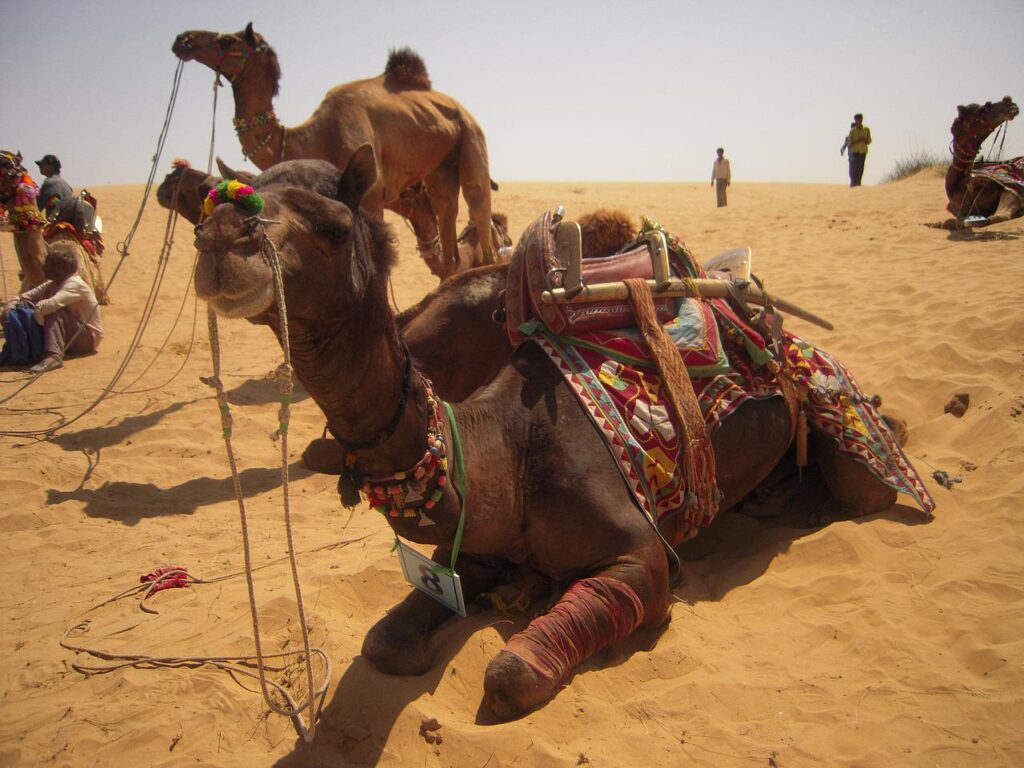 Accommodation
Narendra Bhawan, Vesta Bikaner Palace, The Lallgarh Palace: A Heritage hotel, The Laxmi Niwas Palace, Hotel Maharaja Ganga Palace
How to Reach
By Air: The closest airport to Bikaner is Jodhpur Airport, which is around 251 kilometres distant from the city. You may take a bus or a cab to travel by road from the airport.
By Rail: Lalgarh Railway Station and Bikaner Junction are separated by a 6 km distance. Through these two stations, important Indian cities including Delhi, Punjab, Jodhpur, Hyderabad, Kolkata, Mumbai, Ahmedabad, and Guwahati can be reached from Bikaner.
By Road: There are frequent bus services to Bikaner from Delhi, Jodhpur, Agra, Ajmer, Jaipur, Ahmedabad, Udaipur, and Kota. Depending on your budget, you can choose between using private or state-owned government buses.
Bikaner Tour Cost
How much does Bikaner tour cost?
Total Cost INR 9,600 /–
Cost for 3 Nights Stay (per person)- Starting Point Delhi
Transport- INR 3,000/- including return
Hotel- INR 3,000/-
Food- INR 2,500/-
Other Things- INR 1,100/-
Thank You for Visiting Our Website "Fact Houses" (facthouses.com)