Overview of Patal Bhuvaneshwar
Patal Bhuvaneshwar is a religious cave that is located in the Pithoragarh district of Uttarakhand's Kumaon Region. At a height of 1,350 metres, it may be found near the village of Bhuvaneshwar. Hindu worshippers who travel to this location to engage in pilgrimage admire this natural cave. Inside the cave, a variety of natural limestone rock formations can be found. The Patal Bhuvaneshwar temple is actually a collection of caverns that are nestled one inside the other. Skandapurana's Manaskhanda has the oldest mention of Patal Bhuvaneshwar Cave. Lord Shiva is the main deity of this cave. According to local mythology, all 33 Koti (Type) devas of the Hindu pantheon worshipped Lord Shiva at this location. Weak lights and iron chains holding protection is used to navigate the voyage into the cave.
It's also said that offering prayers at Patal Bhuvaneshwar is equivalent to offering prayers at Uttarakhand's Char Dham. Once inside, one obtains the impression of being in the heavenly realms of Gods and Goddesses. These really bring the Hindu Puranas' countless legends to life. There are a total of 4 openings inside the cave, which are Randwar, Paapdwar, Dharamdwar, and Mokshadwar. Only two of these doors are still operational since the other two were shut during the deaths of Ravana and the great Mahabharata war.
History and Beliefs of Patal Bhuvaneshwar
Patal Bhuvaneshwar was discovered for the first time by humans during the Treta Yuga by Sun dynasty King Rituparna. He was welcomed and helped at the entry by Sheshnaag, the snake king. He was shocked by the 33 Koti, or 33 different varieties of demigods, gods, and goddesses, that he saw as they travelled down the tunnel, and he was further confused by the appearance of Lord Shiva in his imperial avatar. However, he was cautioned that disclosing this holy place to another person would result in his demise. The monarch had to die because he was forced to tell his wife the truth about it. After considerable searching, the queen located the location. Instead of receiving the "Divya Darshan," she was greeted with sculptures, idols, and paintings of the Gods and Goddesses. She constructed staircases within Patal Bhuvaneshwar Cave so that devotees may access the revered site. As word of her descriptions spread widely, Kings of the Chand and Katyuri kingdoms visited and further built the location.
The underground cave is thought to have a connection to Lord Shiva's residence, Mt. Kailash. The Pandavas from the most famous epic tale "Mahabharata" are claimed to have utilised the cave on one of their final journeys over the Himalayas as a passageway to meditate and pay respect to Lord Shiva. Every deity or goddess you may have heard of resides in Patal Bhuvaneshwar, which is a mysterious certainty.
Adi Shankaracharya visited this cave in 1191 AD, which indicated the start of Patal Bhuvaneshwar's current pilgrim history. Since then, the Bhandari Priests have conducted various Hindu holy rituals inside the cave temples.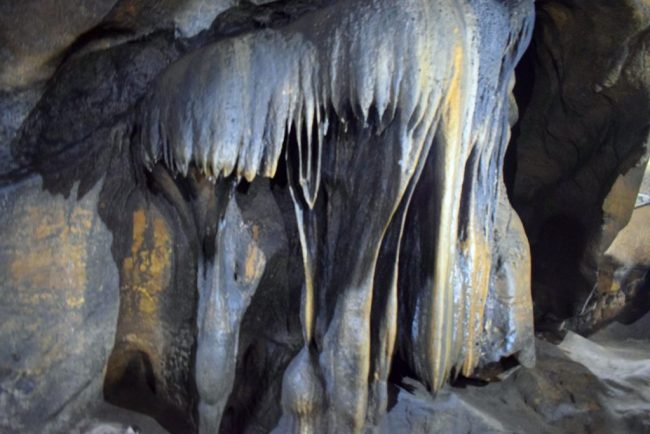 Geography of Patal Bhuvaneshwar
The magnificent Patal Bhuvaneshwar place is situated in the Uttarakhand district of Pithoragarh, 14 kilometres (km) from Gangolihat, near the village of Bhuvaneshwar. This cave extends 160 metres from the location of its entrance and is 90 feet deep.
Coordinates- 29.6882° N, 80.0919° E
Weather Condition
Summer (April to June)
The weather in Patal Bhuvaneshwar is relatively comfortable in the summer, ranging from 19°C (Degree Celsius) to 36°C from April to June. In this location, May is the month with the highest temperatures.
Monsoon (July to September)
The average temperature during the monsoon season drops between 10°C to 17°C when there is an abundance of rain from July to September. Due to frequent rain and sporadic barriers, it might be challenging for worshippers to go to the cave shrine during the monsoon months.
Winter (October to February)
In Patal Bhuvaneshwar, the winter season lasts from October to February, with temperatures ranging from 4° to 15°C. Obviously, the winters are cold in this spiritual location, yet enticing enough to draw pilgrims.
Places to Visit
If you have the local guides with you, you may go on a lot of local hikes and trails in this region. The vistas of famous peaks like Nanda Devi, Nanda Kot, Panchachuli, and many more will be looming enormous in the distance, making a hike through a dense forest appealing.
The closest tourist destination from here is Gangolihat, which might not be all that well-known. Depending on the route you go, if you go a little farther, you may get to places like Chaukori, Kausani, Pithoragarh, and Munsiyari. These are considerably more well-known, and you can now find the location on a map.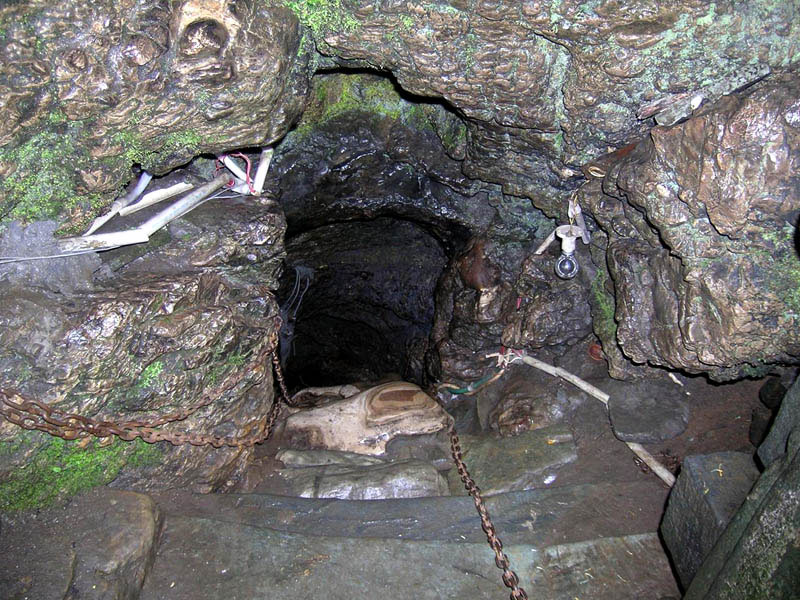 Timings
Winter: 08:00 AM to 5:00 PM
Summer: 07:00 AM to 06:00 PM
How To Reach
By Air: The closest airport to Patal Bhuvaneshwar is Pantnagar Airport, which is around 230 km away. From there, you may book a cab or rent a taxi to get to the hamlet.
By Rail: Tanakpur, which is located 154 km from Patal Bhuvaneshwar, is the closest railway station. These two locations are connected by motorable roads, so you can take a taxi to get where you're going.
By Road: The major towns and cities of Kumaon are well connected to Patal Bhuvaneshwar, and frequent buses operated by the Uttarakhand Transport Corporation travel between those locations and Patal Bhuvaneshwar.
Accommodation
In Patal Bhuvaneshwar, there are less hotels and guest homes. However, practically all of them provide tourists a decent lodging choice in addition to providing for their essential needs. Tourists can rest in luxury in government-owned guest homes (KMVN). However, for the best places to stay, one must reserve a hotel in Pithoragarh, which is located some distance from Patal Bhuvaneshwar. Some lodging alternatives may be found in the adjacent Gangolihat.
Patal Bhuvaneshwar Tour Cost
How much does Patal Bhuvaneshwar tour cost?
Total Cost INR 5,600/–
Cost for 2 Nights Stay (per person)- Starting Point Delhi
Transport- INR 2,000/- including return
Hotel- INR 1,000/-
Food- INR 1,500/-
Other Things- INR 1,100/-
Thank You for Visiting Our Website "Fact Houses" (facthouses.com)