Overview of Chittorgarh
Chittorgarh is filled with tales of Rajput courage, pride, and romance. Rajasthan's bards sing songs of bravery and sacrifice, narrating stories known to every kid and adult in the city. Chittorgarh is called after its most imposing landmark, the Chittorgarh Fort, which is sprawled across 700 acres and rises atop a 180-metre-high hill.
Chittorgarh is a prominent city in the Indian state of Rajasthan. It is located on the Berach River, a tributary of the Banas River. For a long period, the city was the capital of the Rajput Sisodia clans of Mewar. The region is a popular tourist site due to its gigantic stronghold, which is said to be the largest of all Rajput forts, and has seen the mythical account of Queen Padmini's jauhar, which attracts many historians and travellers.
Chittorgarh: A land of India's Phenomenal Fort and A Place of Rajputana's Valour, Dignity, and Sacrifices
History May Be Changed, But a Warrior's Principles Cannot
– Rajputana Ideology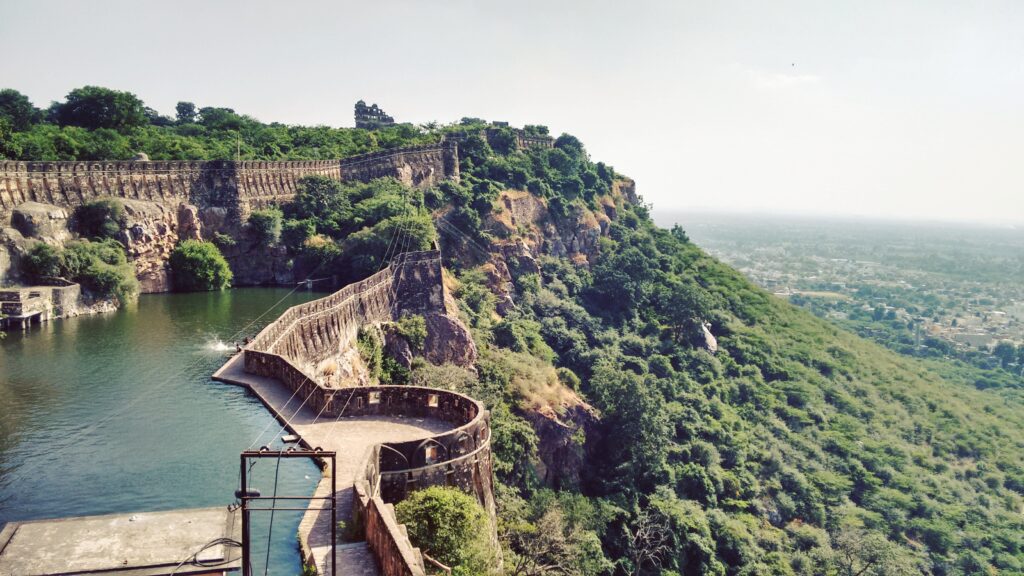 History of Chittorgarh
The Chittor Fort, formerly known as Chitrakuta, is supposed to have been erected by Chitranga, a tribal king. The fort was taken by the Guhila (Gahlot) monarch Bappa Rawal in either 728 CE or 734 CE. Some historians, however, question the veracity of this tradition, claiming that the Guhilas did not dominate Chittor prior to the reign of the later monarch Allata.
Chittorgarh Rajput stronghold has been attacked violently three times in its existence. The first was in 1303 AD when the Sultan of Delhi, Ala-ud-din Khilji, fell in love with Queen Padmini and organised an abduction attempt. Bahadur Shah, the Sultan of Gujarat, wreaked massive damage more than two centuries later, in 1533 AD. Mughal Emperor Akbar invaded and conquered the fort four decades later, in 1568 AD. The fort was ultimately restored to the Rajputs in 1616 AD, during the reign of Mughal Emperor Jahangir.
Geography
Chittorgarh can be found at 24.88°N 74.63°E. It has an elevation of 394 metres on average (1,292 feet). It is located in the southern section of the state of Rajasthan, in the north western part of India, 233 kilometers from Ajmer, halfway between Delhi and Mumbai on the National Highway 8 (India) in the Golden Quadrilateral Road network. Chittorgarh is located at the crossroads of National Highways 76 and 79.
Weather
Summer (Mid-March to Mid-June)
During the summer, the city's maximum temperature remains on the warmer side, with temperatures ranging from 23°C to 44°C.
Monsoon (Mid-July to end of the September)
During the monsoon season, Chittorgarh experiences unexpected rainfall. Temperatures in the range of 20 to 35°C.
Winters (November to February)
The lowest temperature in this magnificent city remains between 9°C and 28°C. The weather is beautiful, and it is an ideal time to engage in outdoor activities.
Places to Visit
Palace of Rani Padmini
This palace is significant in Rajput history. The edifice is located on the banks of a lotus lake and includes a pavilion for the royal family's women. Ala-ud-din Khilji, the then-Sultan of Delhi, saw Queen Padmini's reflection in the pool and was so taken with her beauty that he led his soldiers into battle to kidnap her.
Chittorgarh Fort
Chittorgarh fort has witnessed every aspect of Rajputana tradition, including fairy tales, bloodsheds, honour, and envy. The Maurya emperors erected the greatest fort (in terms of area) in Asia in the 7th century. This fort was home to several monarchs and served as an emblem of gallantry and Rajput pride.
Vijay Stambh
Rana Kumbha built this massive structure, known as Victory Fort, between 1442 and 1449 AD. It was constructed in honour of Rana Kumbha's victory over Mahmud Khilji. The 10-feet-long tower is constructed of two rocks: red sandstone and marble.
Kirti Stambh
This Tower of Fame honours Adinathji, the first Jain Tirthankara (great teacher). This seven-story structure, adorned with statues of Digambars (Jain monks), was erected in the 12th century AD by a rich Jain trader.
Kalika Mata Temple
The magnificent sculpture of the temple is what draws the majority of tourists. It is devoted to Kalika, a form of Goddess Durga. The entire temple, which is placed on a platform, is in the Prathira architectural style.
Fateh Prakash Palace
The architecture is stunning, as is the arrangement. There are several passageways and a beautiful display of Rajasthani paintings; the presence of a great range of crystal objects also reveals the King's fondness for it.
Jain Temple
Chittor's fort contains six Jain temples. The biggest is the temple of Bhagawan Adinatha, which features 52 'devkulikas.'
Gaumukh Reservoir
Gaumukh Reservoir is a deep tank supplied by a spring. The spring rises from a rock structure resembling a Gaumukh, or "cow's mouth." The tank is revered by the locals.
Ratan Singh Palace
Rana Sanga's son was Maharana Ratan Singh II. Following his father's death, he ascended to the kingdom. He was Maharana for a brief period of time, from 1527 to 1531 AD. During his reign, Maharana Ratan Singh II constructed a splendid palace within the Chittorgarh fort as a winter residence for the Royal family.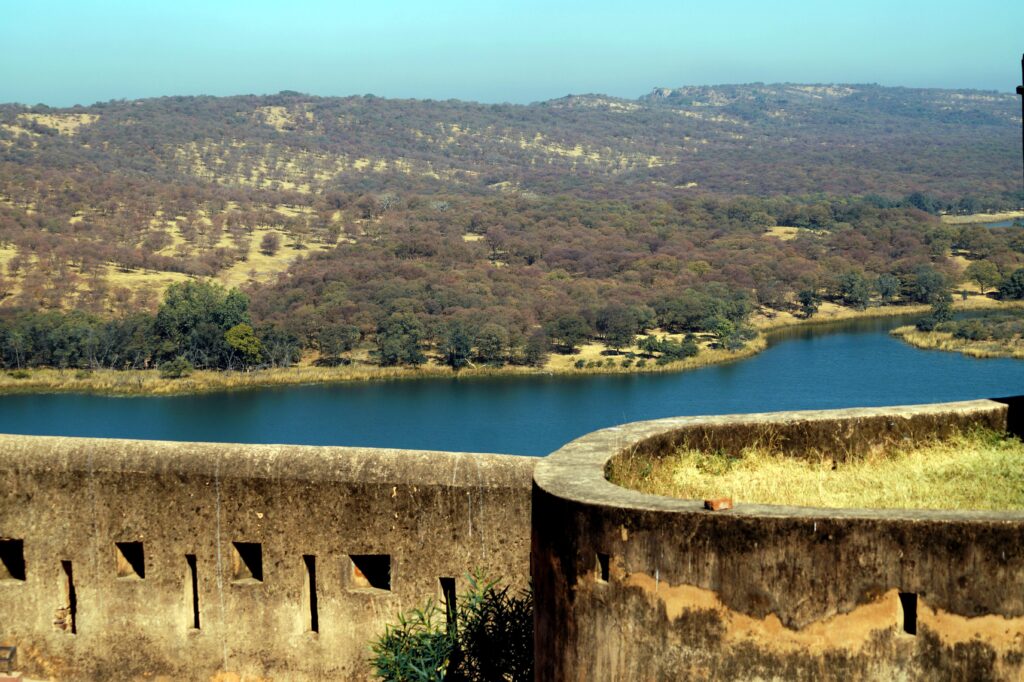 Accommodation – Havelis/Palaces and Hotels
Rajasi Palace, Mansa Mahal, Chittorgarh Fort Haveli, The Padmini Haveli, Vamoosa Pratap Palace
How to Reach
By Air
Udaipur Airport is the closest (Dabok Airport). The airport is 70 kilometres from Chittorgarh and has daily flights from New Delhi, Jaipur, Jodhpur, Ahmedabad, and Mumbai.
By Railways
Chittorgarh is very well connected by train to other cities. The Chittorgarh Railway Station sits on the banks of the Gambheri River. The station is particularly important for travellers since it connects to places like as Kota, Udaipur, Jaipur, Ajmer, and Delhi.
By Road
Chittorgarh may also be reached by car. The extensive road network connects the area to nearby cities. Road distances from Jaipur are 325 kilometres, 583 kilometres from Delhi, 325 kilometres from Indore, and 185 kilometres from Ajmer.
Some Other Important Facts
What is the significance of Chittorgarh?
It is widely assumed that it honours Padmini's most famous jauhar. This event is conducted largely to remember Rajput forefathers' valour and all three jauhars that occurred at Chittorgarh Fort.
Who won the war in Chittorgarh?
After an eight-month siege, Delhi Sultanate ruler Alauddin Khalji seized the Chittor Fort from Guhila king Ratnasimha in 1303 AD.
Which is India's largest fort?
Chittorgarh fort, India's and Asia's biggest fort, is situated atop a 180-meter hill. It covers 700 acres and is one of Rajasthan's largest forts. The Mauryas built the fort in the seventh century AD.
How much does Chittorgarh tour cost?
Total Cost INR 8,600/–
Cost for 3 Nights Stay (per person)- Starting Point Delhi
Transport- INR 2,500/- including return
Hotel- INR 3,000/-
Food- INR 2,000/-
Other Things- INR 1,100/-
Thank You for Visiting Our Website "Fact Houses" (facthouses.com)