Overview of Spiti Valley
The Spiti Valley is a gorgeous wonderland resounding with peace and spirituality. It is home to several Buddhist monasteries and breath-taking natural features, the most of which are unknown and so unspoiled. Located in Himachal Pradesh, the valley has a craggy topography that is carved by the pure, swift-moving Spiti river, which gushes through narrow gorges and valleys. The river is exceptionally well-liked by fans of water activities, particularly river rafting. The valley's beautiful, emerald beauty, framed by snow-capped mountains, is perfect for those who enjoy adventure activities like paragliding, camping, and hiking. The Lahaul & Spiti District in Himachal, often called "a world inside a world" by Rudyard Kipling (journalist), is bordered by towering Himalayan highlands and is home to fascinating cold desolate areas of emptiness, pure babbling rivers, beautiful alpine lakes, and a rich Buddhist culture and history.
Some Interesting Facts About Spiti
The name 'Spiti' means 'The Middle Land', i.e., the land between Tibet and India.
The Mummy of Sangha Tenzin, which is now kept on display in a temple in Gue, is said to be more than 500 years old.
In Spiti, the only petrol pump is at Kaza.
Bara Shigri Glacier (27.7 Km) is the 3rd longest glacier of India, located in Lahaul & Spiti.
Hikkim, a village in Lahaul and Spiti, is credited to have the World's highest Polling Station.
History
The Spiti Valley's history has been mostly lost. The oldest trustworthy information is from 1055 AD. Lhasa and the Tibetans once controlled the Spiti Valley. Since the Spiti Valley was ruled by Tibet until the 17th century, a unique Buddhist culture is clearly discernible. Early in the 18th century, Spiti Valley's whole region came under Ladakhi sovereignty thanks to King Jamya of Ladakh. Raja Man ingh of Kullu was in charge of the Spiti Valley towards the end of the 18th century. Spiti Valley was controlled by Tibetan and Ladakhi monarchs in the 19th century. The valley was pillaged and the monasteries were stolen at this time. Spiti Valley was annexed to the British empire in 1846.
Spiti was included in the "inner line" in 1962 as a result of Chinese assault. Road construction was the war's beneficial side effect in 1962. A route from Shimla-Kinnaur-Sumdo to Kaza and another across the Kunzum Pass and Rohtang Pass were constructed for defence purposes. Due to the inner line, no foreigners were permitted, and Indian citizens needed special permits to access Spiti Valley. This persisted until these regulations were abandoned in 1993. As a result, the Spiti Valley is still undeveloped, genuine, and free of thoughtless commercialization. Tourism to the region only began after this.
Geography
On the leeward side of the Trans-Himalayas, in the Spiti region, are towering mountains on all sides. Kinnaur, Kullu, Ladakh, and Tibet are its close neighbours. The Himalayas are the planet's newest mountain range, and they have a fascinating geological background that goes back millions of years. The Spitian Himalayas provide a unique window into the Himalayas' prehistoric geology. Although the valley is not particularly large, there are various settlements and fields where people cultivate vegetables, peas, buckwheat, and barley. It covers 4800 square Km. Bhoti is the local language, and some locals practise Buddhism as their religion. Eastern and western valleys divide the main Spiti valley.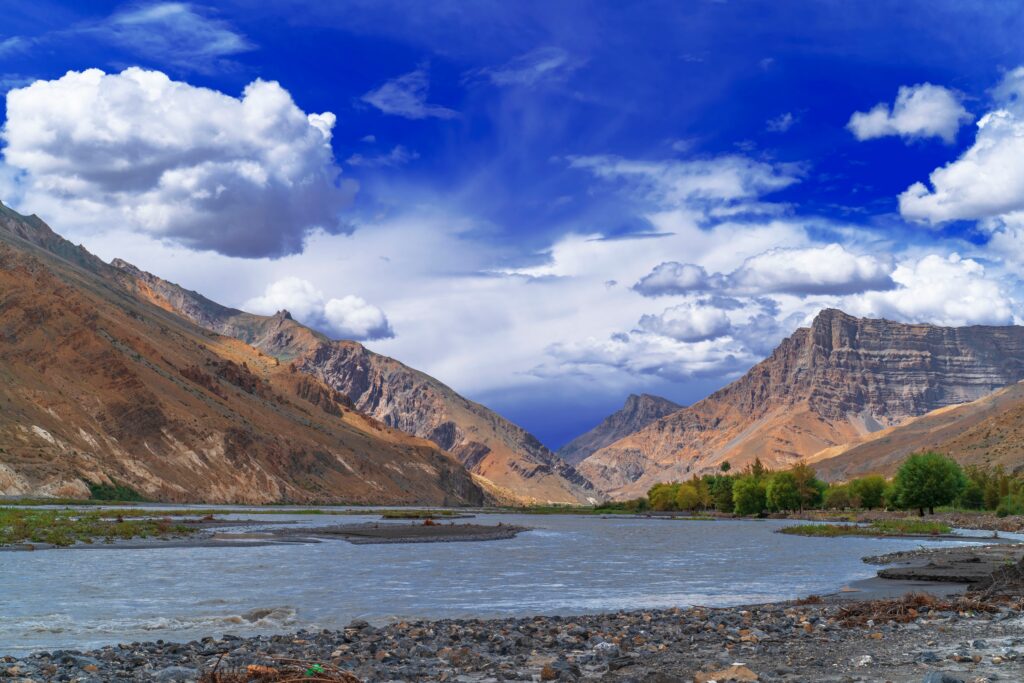 Weather of Spiti
Summer (May-June)
This is the best season to explore Lahaul and Spiti Valley since the temperature is between 8°C and 15°C. During this season, the weather is still pleasant and only slightly chilly, allowing for plenty of outdoor and hiking activities.
Monsoon (July-September)
Because Lahaul and Spiti are located in the Himalayan rain shadow and it's a dry cold dessert, these months get little or no rainfall.
Winter (November-April)
The winters are exceptionally hard and frigid in this area, with lows of -17°C and even lower in some Spiti communities.
Places to Visit
Pin Valley National Park
In this park, which is located in the highest altitudes of the Himalayas, you may see rare species of plants and animals including snow leopards, Siberian ibex, Himalayan snow cocks, Tibetan gazelles, snow partridges, and more. There is so much to do there, from taking in the natural splendor to seeing animals, that you will completely lose sight of time.
Ki (Kye/Kee) Monastery
The picturesque Ki Monastery, one of the biggest in Spiti Valley and situated at a height of 4,166 meter (m) above sea level, is an intriguing addition to any spiritual traveler's bucket list. Visitors to this tranquil Buddhist monument are in awe of the magnificent murals, paintings, and stucco sculptures that are shown here. They are magnificent specimens of the monastery architecture from the 14th century
Buddhist Monasteries
You can visit any one of the several Buddhist Monasteries located across the valley to find serenity. Every sight would astound you, from the inside old artwork to the architecture of the monasteries.
Dhankar
The Dhankar Gompa or Dhankar Monastery, which is approximately 1,000 years old and is located at a height of roughly 3,370 m, is this area's main draw. The area was formerly the castle of Nono, the king of Spiti, and the name "dhankar" in the local dialect means "fort." In its early years of development, this fort monastery served as a jail.
Kibber Village
The mountain town of Kibber, which is 4,205 m above sea level, is renowned for its scenic surroundings and monasteries. According to many, Kibber's terrain resembles that of Tibet and Ladakh, and as a result, its charm rests in its arid splendour.
Tabo
This mud hut settlement, despite its outward appearance, is home to lovely sights. In contrast to other monasteries, it is located in a bowl-shaped level valley with the Tabo Monastery resting at the bottom of the valley. This place is known as the "Ajanta of the Himalaya" and features galleries of wall paintings and stucco figures, taking its name from the Maharashtrian location known for its artistic caverns.
Village Of Giu: Visit The Mummy
Giu is a tiny village that can be accessed after an 8 Km ascent on a route that branches off of NH-22. It is located between the cities of Sumdo and Tabo. It has a shrine with a grave that is more than 500 years old, and people can visit this mummy there.
Baralacha Pass
There may not be anything more well-known or risky than bicycling or hiking through the Baralacha Pass. If you're courageous in heart and an avid adventure seeker, travelling over one of the world's most treacherous passes is undoubtedly a treat.
Homestays/Hotel
The Nomad's Cottage, Gemoor Kher, Hotel Spiti Heritage, Zostel Homestays, Hotel Blue Pine
How to Reach Spiti
By Flight
The nearest airport is Kullu Airport at Bhuntar, Kullu, located at a distance of 245 Km. A cab can be hired from there directly to Spiti Valley.
By Train
The closest major station is Shimla Railway Station. A cab can be hired from there directly to Spiti Valley
By Bus
Several private and state buses ply from major cities to Spiti Valley. Private car and taxi can also be hired.
Some Other Key Points About Spiti
What makes the Spiti Valley famous?
The Spiti Valley is renowned for its scenic landscapes and rich cultural history. One of Spiti's most well-known sights is Tabo Monastery. Spiti's monasteries are well-known for their magnificent paintings, historic temples, and many stupas.
How long is sufficient for Spiti Valley?
You should at the very least plan an 8-day journey to the Spiti Valley because it takes 5 days to go from Manali to the Spiti Valley through the Kinnaur side and back. You may thus tour Pin Valley, Langza, Hikkim, Komic, Ki, and Kibber Villages in the area of Kaza with three extra days.
For Spiti, which route is preferable?
Condition of the Road from Route 1 (Delhi – Shimla – Spiti)
The fact that the road is generally in good shape is the biggest benefit of travelling the Shimla-Spiti route. Between Shimla, Narkanda, Jeori, Karcham, Sangla, and Kalpa, some of the nicest and smoothest road stretches may be found.
Lahaul and Spiti, are they distinct?
India's Himachal Pradesh state includes the districts of Lahaul and Spiti. Lahaul is often more fertile and green than Spiti, which is mostly a harsh high cold desert.
How much does Spiti valley tour cost?
Total Cost INR 12,500/-
Cost for 5 Nights Stay (per person)- Starting Point Delhi
Transport- INR 4,000/- including return (on road public transport)
Hotel- INR 4,000/-
Food- INR 3,000/-
Other Things- INR 1,500/-
Thank you for visiting our website "Your Fact Houses" (your.facthouses.com)